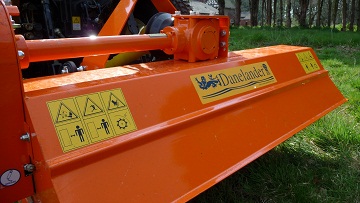 These excellent value Danelander EUROFLAIL mowers (slightly offset) achieve a finer finish using more than thirty blades and a rear roller to achieve an excellent result. Can be used for tough paddock grasses and woody weeds AND lawnmowing giving fine roller striped finish. The triple belt Drive installed copes well with the tougher grasses.

This flail mower is available in three widths 4', 5' and 6'.

Features:
This machine is the shortest mower you can fit behind your tractor, making it a useful tool for mowing in confined spaces.
Adjustable height by Tractors top link and by Rear roller. EU MADE AND UK ASSEMBLED FULL TWO YEAR WARRANTY. FULL CE COMPLIANCES Optimum use with Tractors between 14 - 60hp APPROX..